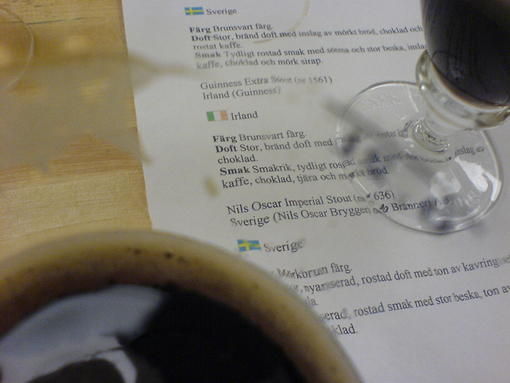 SURPRISE! We actually realised we need to update this section as well...
so, we've been tasting a few different beers recently though the last two tastings have seen us focusing (we know, that's not really what you'd expect from a malt & metal society) on two great breweries: Brew Dog from Aberdeen. If you haven't tried their beers, you are missing out on vital parts of life. In fact, you are probably missing most essentialities of the world. Basically, just put down your laptop and head over to a beer-shop near you. Now. Thank you.

Also, we went all patriotic and did a full Nils Oscar-tasting. If you live in Sweden and have yet to try Nils Oscar, move. Seriously, you are not contributing to the good of this country. Move somwhere that probably suits your stale state of mind better than here. Moldavia or Albania sounds more appropriate. One of the best lagers to be produced in the world is Nils Oscars "God Lager" - and the clue is in the name, isn't it. For all you non-swedish speakers, that is more a reference to great taste rather than a holy deity.