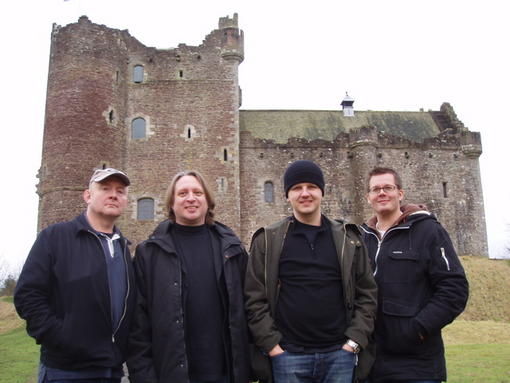 outside Doune Castle

Have gun, will travel

What good is having a malt and music club unless you hit the road every now and then? So far we have managed one trip to Scotland, but more are in the pipeline!
so - what went on in Scotland, I hear you ask curiously. Look no further, scroll down and see the true soul of the Stockholm Malt & Metal Society. For visual aid, click to the photo-section...


March 2008 trip
It's a tough job, but someone just has to do it. We all live by these words of wisdom, which is why 12 brave soldiers of the Stockholm Malt & Metal Society just had to leave the safe haven of home to conquer the wild north of Scotland. Going bravely where no whisky society has gone bravely before (well, if you sort of don't think about the motorway up north we were driving on, it felt pretty much as noone had gone there bravely before us. Or, were they in fact as brave as us? Or… let's drop that for now). This is the full, uncensored story of our Orkney onslaught, and where it got us. So, without further ado (oh, boy do we love quoting Shakespeare over here… that's the level we operate at you see), read on for the full low-down on what went on and what didn't happen in Scotland a week in early march 2008.

Wednesday March 5:th 2008
We all gather up at Arlanda Express and take the train out to Arlanda (the hint is in the name, isn't it). Before we manage to even get started on what music should be played on the looney-bus, we arrive at the airport. Skavsta-in-the-middle-of-nowhere, this is not. We quickly adapt to the fact, and happily acknowledge that this, now, is the way we roll. No more low-fare trips to Lappland to get to the UK for us. At Arlanda, within seconds of passing security, beers are ordered and all is back to normal again. Peter Mannio has spent the past week informing us of what infernal hell-born storms await us after studying the weather pages of bbc.co.uk, and is from now on known as Armageddon Mannio. We manage to get on the flight to London, and even more surprising, we manage to get off as well, and get on the flight to Inverness AND meet up with Eric Paglia, who has spent a few days in London. The logistics to make this happen would impress even the most hardened project-manager, as Tomas Hegert confessed after a beer or two.
In Inverness, the absolutely wonderful sight of our trustworthy old 15-seater in the parking lot made us all very happy. (well, to be honest, it was a new bus the kind folks of Clarksons Car Rentals had driven up for us, but it reminded us of our old trustworthy work-horse). Niklas immediately took care of packing the luggage while the rest of us spent the time doing important stuff like staring at a weird road-sign, finish off our beers and take a quick leak before heading into Inverness, to find our hotel. On arrival, we made sure we got down to the pub as quickly as possible, where more beers were ordered and the following discussion took place between John Tshilis and a dreadlocked scot with wild eyes:
Dreadlocks: Hi guys… where are you from?
John: Hi Mate, from stockholm… having a good night?
Dread: yes… this is my first beer since I got out of the mental hospital
John: aaah… I see…
Dread: I had to go when I tried to get rid of a man who gave me a headache. He really gave me a bad headache…
John: have a great night, mate!

March 6:th 2008
Reasonably early morning, and the full scottish breakfast that Gordon had been longing for really delivered. Whinpark Guesthouse, Inverness. The home of great scottish breakfasts.
No rest for the wicked though – we are on a mission after all. 10:30 we arrive just north of Inverness at Dalmore, where we have a full tour and tasting booked… but the distillery looks very closed when we arrive. After pulling at the locked doors for a while, a fellow arrives and informs us in a less than polite way that the tour-person just called in sick, so not much to do, and could you go away please? The mere fact that we'd brought twelve people from overseas didn't bother him one single bit. So – if anyone in any way associated with Dalmore reads this, rest assured that noone of our society will ever purchase a bottle of your whisky anymore. Oh, by the way, did we mention that you will forever onwards be reffered to as Nevermore? Ah… feels better already.
A quick drive up to Glenmorangie, and the friendly folks there took care of us straight away, rescheduling us immediately. If there ever was a friendly, caring, engaging customer policy, it is to be found at Glenmorangie. After the tour, we manifested that by tasting a huge amount of different expressions and buying even more.
A quick phone call later, and we were now booked in for a tour at Clynelish, where we arrived to get a proper bollocking for even considering visiting other distilleries without seeing them. Sorry. We should have known better.
After the tour, we head on northwards and are starving by now. Interestingly, several people have referred us to the village of Helmsdale for "the best fish and chips in the highlands". We arrive at La Mirage, and can only agree. Served in a setting that, at best, could be described as 'kitsch', the food was immaculate. Take our word for it: go there. Just do it. It needs to be seen to be believed.
From Helmsdale, we took the scenic route to the ferry in Scrabster (which we all agreed sounds like something you might get after spending too much time with the wrong people). The scenic route was literally as wide as our bus, and included several dear and at least two stops to let Christer Mellström take a leak. In Scrabster, we found the Popeye Bar and made ourselves comfortable waiting for the ferry to Stromness. On board, we all had problems to stand up in the heavy sea. John asked the bartender if it often was as rough as this, and got the reply that they hadn't had such a calm trip in months. Armageddon Mannio filled in the weather for our return, which was "all hail and gale". Promising.
Arriving in Orkney, we headed over to Kirkwall, found our hotel and went for a curry. For the record, if you ever find yourself in Kirkwall and in need of a curry, head over to Dil Sa. It could actually have been some of the best indian cuisine most of us have had in ages. Do we get paid by Dil Sa to write that? You bet we do. The rough guide we ain't. The most memorable comment of the evening was Gordon, who loudly proclaimed: "You can never blame yourself if you drink yourself drunk. Never." Ah, now that answers a few questions.

Friday March 7:th 2008
Another day, another full scottish breakfast. Off to Scapa to see if we could blag our way in for a tour, though they don't do tours. The clue might have been the yellow "No Visitors" sign by the entrance. Being swedish, of course we don't know what that means, so we sent in the troops (australian John, new yorker Stefan and half-brit David… how's that for a logical lapse of reason?), but to no luck at all. Though the doors were open, cars parked outside, noone acknowledged our calls, so we had to troop off to see some historical stuff instead. As we gather most of you who'd visit this site are more interested in the drinking, the music and the malt, we'll leave the full story of all the historic sightseeing at our sister website: www.sometimeswelovetobecultura...ngs.com. One fact we'll let you know here is though: there are no trees on the island. But a lot of wind.
During the day we also realised that we were accompanied on the island by some 65 other swedes who'd payed 12.000 SEK for a bottle of Highland Park each, in which a trip to Orkney was included. Hrm. The previously mentioned logical lapse of reason seems pretty minor to that reasoning.
For the sake of clarity to all orcadians reading this: no. We are not the return of the vikings. Sorry. (Eric Paglia wishes to add that he "might be").
Arriving back to Kirkwall, we explored the city, and found the best whisky shop north of Inverness: John Scott & Miller. Make sure to NEVER miss them if you are in the area. On arrival, we met half our society who were happily sampling all the bottles being served by the kind owner of the shop. When we say happily, we mean "loudly, waving arms, talking to all the customers" happily. Off to the pub before dinner, where David made a point of buying the local raffle-tickets (claiming "we'll blend in better"). Problem being that you could only win meat. Lot's of meat. Not that we won anything, but… meat?
Dinner was a silent affair, taken in at Ayre Hotel by the harbour and nothing to report from there, apart from your usual arm-wrestling, push-ups, singing and grown men wrestling on the floor. And that was before we got to our main courses. More drinks in the pub after that, and some of the guys headed on to the "it" place to be in Kirkwall: Torvahaug. The great thing with Torvahaug is when they closed, they handed out paper cups to let you take your remaining beer with you. A brilliant idea, which we all hope to see in Stockholm within the close future. For some reason, a play by Samuel Beckett about Godot springs to mind.

Saturday March 8:th 2008
Following the full sottish breakfast (Gordon, literally being in heaven), we headed over to Highland Park, where our guide James took time out on a Saturday to show us around the distillery. We are forever grateful to Highland Park for opening up for us on a weekend, and to James for his informed, very funny and interesting tour, which included climbing the roof, opening fires and other actions, to which he often and casually referred to that "I'll probably get fired for that". Exactly the type of man the Stockholm Malt & Metal Society have a lot of love for. After the very extensive tour, we did a full tasting with some fantastic expressions of Highland Park before heading over to the shop. Closed as they were, and having been hoovered on the Friday by the bloody "return-of-the-vikings", we were pretty much left to scrape up the left-overs, but we were all so happy after James's tour, so it didn't really bother us. After our visit to the distillery, we once again headed down to the whisky shop, picked up our last bottles and drove off to get the ferry back home. Armageddon Mannio had warned us several times of the impending Mayhem that we were to expect… but the sky was blue as usual, the sun was shining as always and the sea was calm as anything. We had a few minutes before we left, which Christer took well care of by getting four pints in (together with our soup and sandwiches). Leaving Orkney, we all felt a bit sad, but Orkney gave us it's best farewell as we passed the Old Man Of Hoy on our way towards the mainland. A more majestic, magic view to leave with, one could not possibly ask for. Arriving in Scrabster (anyone got any itches?) we drove southwards to Inverness, stopping in Helmsdale for a quick pint before heading on bravely in the dark. A couple of hours later we arrived in Inverness, giving us enough time to head out for a few drinks, which included live music, a 1965 Glenugie, a midnight walk to the castle, a bald man singing karaoke and a bouncer yelling DRINK IT OR LOSE IT in our ears. Nice place, old Inverness.

Sunday March 9:th 2008
Yep, you guessed it – the breakfast was scottish and it was full. Off to the airport to return the bus and get down to Gatwick. Armageddon informed us of the total storm awaiting us in London, but we only arrived to more sunshine and blue skies. More shopping before flying home to Stockholm (by the way, Christer, of course, managed to get a few pints in). A very nice, easy journey home without incidents (sort of a first for us), and everyone looking forward to next years crushing crusade which may or may not take us back to Speyside and on to Skye. That's for us to know, and regular visitors of this site to find out.

By the way, the day after we left, the worst storms this year hit London, with 80% of all flights being cancelled. You've got to hand it to Peter Mannio for his amazing weather-reading skills after all.

Til' next time – be careful out there.





Feb 2007
Christer Fuglesang? Who he? Going to the moon seems a minor feat when looking at the crusaders of the Stockholm Malt And Metal Society and the second triumphal procession around Scotland! This time we took to shaking Campbeltown and Islay's foundations and have a wee dram in the process. Read on below for the full, uncensored rundown on what went on and who said what during the four days that, once again, have marked our society's given place in the books of history.


Wednesday Feb. 21:st
The brave travellers of the society meet up at Stockholm City Terminal to get the bus to Skavsta Airport. For the sake of, as the hip-hop artists of the world like to call it, "keepin' it real", we have opted to drop the "Stockholm" out of the equation, since the airport in a weird way seems to have moved even further away since last years trip. After checking in, causing only minor problems including Stefan Pessirilo and unpaid taxes, we proceeded to fly off towards Mecka (or, as the scots would refer to it as: Prestwick). The flight was a smooth affair, as always, since we travel in style, with the one exception of Robbe being harshly told off by the flight attendants not once, but three times (including once over the airplanes speaker system) for talking too loudly. Interesting fact that this was one of the few moments of the journey Robbe was in fact sober. Safely in place at Prestwick, we picked up our 16-seater from Clarksons (possibly the best car rental company in the world) and drove off to Troon to check in at Anchorage, successfully persuading the bar to stay open another hour, before getting some sleep.


Thursday Feb. 22:nd
After a true breakfast of champions, we packed into the bus, appointing Niklas the job of luggage handler and organizer of packing the bags. We headed off on our mission, aiming steadily towards the horizon, on a courageous trip to Campbeltown, only to arrive in Irvine ten minutes later desperately looking for somewhere to fill up with petrol. Once we were done there we headed north, stopping in Inverary to visit Loch Fyne Whiskies. If you would be interested in whisky and find yourself to be in the vicinity of Inverary, it is a criminal offence to miss out on visiting them. A selection to die for, giving us all a sense of wanting to buy the entire shop. Including the 1919 Springbank for 14.000 pounds. We pooled all our money, but didn't get far beyond a Johnny Walker Red somehow. We need to be richer, or rename ourselves to the Stockholm Malt and Money Society. If you happen to be in private equity and reading this, we do have ideas of investments we can… eh… help you with.

Back into the bus and further down the Mull of Kintyre (and, though I thought I'd avoid mentioning it, I give in and do mention that it is indeed the Mull immortalized by Paul McCartney) towards Campbeltown and Springbank. On arrival, we check in at the Ardshiel and gladly realise that their bar must be our definition of Heaven. No time for that though, as we head on to Springbank where we meet up with Pete Currie and Ranald for a tour of the distillery. Following a great walk through Springbank, we all move on towards the tasting room where Ranald introduces us to a few various Springbanks, Hazelburn and Longrow expressions (Springbank 32yo… aaaah…) before we pillage the shelfs trying all sorts of malt including a fantastic Mortlach, a less than fantastic Tasmanian single malt and some rum. An all in all fantastic tasting leaving us all very happy and… talkative.

Great dinner at the Ardshiel and then an inventory of the bar where some nice old Ardbegs and Banff's were sampled among many others…


Friday Feb 23:rd
The whole concept of "early mornings" became very, very clear to us as we assembled outside the bus at 05:30 in the morning to head up to catch the 7:00 ferry from Kennacraig. Once aboard the ferry, everyone was in good spirits nonetheless, and a full breakfast did it's best to set us on the right track. As our beer-meister David Stone once put it: "you might not know it now, but this is the best thing that could happen to your body!".

We got all teary-eyed as we passed Ardbeg, Lagavulin and Laphroaig on the way in to Port Ellen, before heading on towards our first Islay destination. Arriving in Bowmore, we soon realised the difference between Bowmore House and Bowmore Hotel (the former being the place we THOUGHT we'd booked, the latter the place we actually stayed at). After clearing out the minor detail of where we were in fact spending the night, we headed on down to Bowmore Distillery where distillery manager Eddie took us around for one of the best and most well-informed tours we have ever been on. Climbing into kilns, drinking worts and tasting new make gave us a good start, then we headed on to the warehouse where Eddie opened a couple of casks for us to taste there. I dare say I speak for us all when I state that this was one of life's magic moments for all of us. Unforgettable. Then up to the visiting room for a few more drams in front of the open fire and panorama windows over-looking the Loch Indaal. Life is good sometimes.

Into the bus, and quick trip to Ardbeg where we had a great lunch before hooking up with Jackie for our tour. Never before has the Stockholm Malt And Metal Society so simultaneously, so collectively and so unanimously fallen in love. Jackie is probably the most enthusiastic, charming tour-guide any distillery could ever dream of. Matters only got better once she jumped up and opened a 1975 cask in the warehouse, pouring us a massive glass of gold. We are in love with Ardbeg! (by the way – should you have the opportunity to visit Ardbeg, make sure you try the sweet potato, cream and red chilli soup. It rivals their finest whisky in good flavours!)

Back to Bowmore Hotel for a few beers in the bar and a great dinner before heading down to the Lochside Hotel and Duffies bar, where more whisky was sampled and several of us realised that our lives had been pale and uninformed until we were enlightened with the beauty that is old Bunnahabhain. Several religious experiences were had in the bar before we headed on to the peer and expressed our love for Islay to anyone who would listen (which, for some reason, was only ourselves).


Saturday Feb 24:th
A relaxing morning, were it not for the fact that we were quite hungover and sensitive – which didn't seem to worry the plumbers and builders who started tearing up the floors of our rooms, too much. After breakfast and a tour of Bowmore, we returned to find our luggage lifted out into the hallway, and our rooms completely stripped and torn out. Slightly weird and not so welcoming. A fact that didn't stop the hotel from charging us their full and normal fee. Any bad feelings from that were washed away as we headed over to Bruichladdich and had a great tour with Joanne and a very nice tasting with Mary afterwards. We worked our way through more or less every expression of the 'laddies (and, have a look at their website and realise they have quite a few!) before buying loads of bottles and deciding to buy a cask as well. Bruichladdich have a lot of very refreshing ideas, and we all felt extra happy to hear about their plans to open up Port Charlotte as an organic and green distillery. More initiatives like that are needed we feel!

Happy and content in the sunshine we drove off to Port Askaig to get a quick lunch before the ferry to Kennacraig, we arrived only to find out that the return ferry leaves from Port Ellen since they are repairing the port Askaig. But, as the gods of malt know: Calmac are bad, but the Stockholm Malt and Metal Society is badder! – we just stepped into the bus and pushed it to it's very limit and arrived in Port Ellen just minutes before the ferry left to Kennacraig.

Arriving safely after a curvy drive to Oban, we checked in to the hotel and went for a very nice, very seafoody dinner. A few drinks were then had at Oban Inn, before being verbally abused and consequently thrown out by a very, very, very drunk man who turned out to be the manager of the bar. We quickly realised that, had he lived in Stockholm, he'd be just the kind of man to be a key member of our society. We definitely intend to return there as soon as possible!


Sunday Feb 25:th
Final day of our fearless take on Scotland, and one taken much in the bus driving through the magnificent landscapes known to mankind as the highlands. A long discussion on why, exactly, there can "be only one" was had before arriving at Prestwick to catch the 15:45 flight back home. No incidents to report apart from a bloody scary landing, giving us all the shakes, and then the bus back to home. Somewhere around Södertälje, we realised that we all were longing to go back straight away.

But – be afraid, Scotland, be very afraid – we will return very shortly! (if not for other reasons to purchase our cask!!!)



Essential quotes of the trip:

"this should blow your socks off"
Eddie at Bowmore, before opening a 14 yo sherry cask in the warehouse

Jackie at Ardbeg: What could possibly go wrong with the malt and metal society here?
Jens: Everything!

Waitress at pub: Is there anything wrong with your beer, sir?
Olle: Yes, it's empty.



2006

Wednesday Feb 22:nd 2006
We all (apart from David Stone, who was sorting stuff out, gangsta-style in London) gather to take the bus to Skavsta Airport. Calling this Stockholm Skavsta is stretching the laws of geography to it's absolute furthest.
At Glasgow Prestwick (similar liberal use of geographic priniciples), we pick up our 12-seater and instantly realise that we look like a group of patients being taken for a nip of fresh air from the local mental institution. Head up to Troon to the Anchorage Hotel, where we arrive at 23:30, but manage to persuade the bartender to hold the bar open until 2:00 am. Good hotel, no doubt.

Thursday Feb 23:rd
Early morning we head back to the airport to pick up Stone, who flies in from London. We then head off for the first important stop: Dixons, to get a fxxxing cassette-adapter, since the stereo has no CD-player! After that, we head north and stop at Doune, where we stop at Doune Castle to breath in the atmosphere and drop a few lines from Monty Pythons Holy Grail, since it was shot at this location. Once we all know that we will fart in your general direction, we head onwards, upwards to Speyside. Lunch with some good ales is had in Pitlochry, but no time to waste - whisky awaits! A couple of hours later, we know all about scottish traffic, weather and lay-bys and arrive slightly late at Aberlour. There Dennis takes us around for a great tour, and finishes off with a brilliant tasting. He notes that a german visitor recently claimed that Aberlour was better than sex. Obviously not a member of our society then. After a full run-through, we empty the shop for whisky and head off to Dufftown, where we camp at Fife Arms. A top-class dinner is had at the Taste Of Speyside, and chef Sandy takes us all back to his office to have a proper look at his whisky collection. Much whisky is had, and Peo introduces Scotland to the &dhbg;Statue Of Liberty&dhbg; drink. Sandy warns his other customers not to mix with us after this.
Sandy, his brother, and a friend of theirs (John) meet up with us at the Royal Oak, where we make sure the Stockholm-Dufftown relations are top class and set in stone for a long time.

Friday 24:th feb
We head off to Glenfarclas and meet with Robert Ransom who takes us round the distillery. This is holy ground to us after one of our best tastings in Stockholm. Robert then takes us for a tasting, where several different ages and single cask expressions are tasted. Beautiful stuff indeed.
After this, we head off to the Speyside Cooperage where they make the casks used for storing the whisky. Afterwards, everyone is mightily impressed, and realise we are all wussies and not real men at all. Lunch is needed! Craigellachie hotel was refurbishing, so we went across the street instead... After a nice lunch, and yet more ales, we head southwards for Edradour. Taking it nice and easy, we arrive just in time to see the gates close for the weekend. Dammit! Our first major set-back, and nothing to do but head on southwards to Edinburgh. In Edinburgh, we drop Charlie off before breaking every traffic-law known to man to get pick up our rugby-tickets and find our hotel, and finish by heading off for a curry.

Saturday 25:th feb
Breakfast sorted, we head out to find our fine bus (for yes, it was indeed a bus a traffic warden informed us, relieving us of the need to avoid bus-lanes) ticketed. Damn. Nothing that stopped us from going downtown to pick up some more whisky at Royal Mile Whiskies. This must be one of the best shops on earth. If you ever go to Edinburgh, make sure you drop by this store. Peo entered the shop, and was immediately attacked by a falling bottle from the top-shelf. As compensation, a slightly embarrassed attendant gave us all a healthy rebate and a few good tastings of various whiskies. In the afternoon we all headed out to Murrayfield, stopping on the way for a few beers, to see Scotland humiliate England in Rugby. Stone and myself were taken back by what we thought would be a sure-fire win for England, but Robbe - sporting his new Scotland shirt - was very happy.
A top event anyhow, brilliant atmosphere and a wonderful experience. We finished the evening off by finding a great mexican restaurant and ended off at the Oxford Bar (yep, the one in Ian Rankins books)

Sunday 26:th feb
Time to go home. Now, we encounter the worst timing of all possible: Sweden has somehow managed to get to the finals of the Olympic games in hockey, and against arch-rivals Finland! And the game is broadcast by BBC2 as well - right at the time we need to be on the road to Prestwick... We decide to try to find a sports bar in Troon or around there to see the game there. However, we realise this won't be an easy feat when the first place we call (which shall remain un-named here) give us the chilling truth: &dhbg;well, first theres the football on, and when that's over there's the rugby, so I don't think anyone wants to see a bunch of scandinavians poncing around on scates&dhbg;.
We manage to get the hotel to let us watch the game in the lobby, where we see it all (under loud cheering), apart from the last 4 minutes, when we have to set off for Prestwick. Our swedish friends at home text-message us what happens the last minutes, and the happiness when we win the Olympic Gold Medal was a beautiful feeling as we left Edinburgh!
We fly back to Stockholm, and once again realise that no-one at Ryanair have probably read a map of Sweden.

But - it was a brilliant trip, and in january 2007, we're heading back for more!